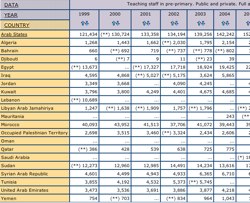 This is a broad set of data describing education around the world. Example of tables include:
Demographic and economic data
Enrollment by grade
Repeaters by grade
Teaching Staff
School Life Expectancy
..and much more.
There is a somewhat difficult to decode method for customizing your tables, but I was able to produce and download an Excel file with the number of educaiton staff in the Arabe nations from 1999 to 2010 in about 15 minutes.
So what you you do with that?