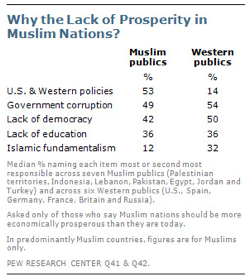 Pew Research Center is a deep, rich, and constant source of data about us — what we believe, like, love, hate, fear, and so on.  On July 21, they published data comparing the differences and similarities of how the western world and Muslim world feel about conditions in the Middle East.
Muslim and Western publics continue to see relations between them as generally bad, with both sides holding negative stereotypes of the other. Many in the West see Muslims as fanatical and violent, while few say Muslims are tolerant or respectful of women. Meanwhile, Muslims in the Middle East and Asia generally see Westerners as selfish, immoral and greedy — as well as violent and fanatical.
Some of the data here might make for some interesting ideas for infographics or at least some useful conversations.