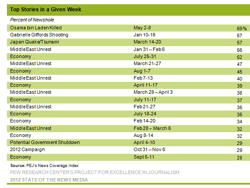 Thursday is data day, and I'm pointing you to some data from the Pew Research Center's Project for Excellence in Journalism.  They have looked at the major stories of 2011, measuring the percentage of the newshole for its week of occurance.  Their analysis identified five times when a single story filled at least half of the newshole.
Number one was stories around the killing of Osama Bin Ladin by Navy Seals, filling 69%.
Here is the data on the percent of the newshole filled by the top # stories.  As these are about "stories," it might be an excellent basis for student-produced infographics.
| | | |
| --- | --- | --- |
| Osama Bin Laden Killed | May 2-8 | 69% |
| Gabrielle Giffords Shooting | Jan 10-16 | 57% |
| Japan Quake/Tsunami | March 14-20 | 57% |
| Middle East Unrest | Jan 31-Feb 6 | 56% |
| Economy | July 25-31 | 52% |
| Middle East Unrest | March 21-27 | 47% |
| Economy | Aug 1-7 | 45% |
| Middle East Unrest | Feb 7-13 | 40% |
| Economy | April 11-17 | 39% |
| Middle East Unrest | March 28-April 3 | 38% |
| Economy | July 11-17 | 37% |
| Middle East Unrest | Feb 21-27 | 35% |
| Economy | July 18-24 | 35% |
| Economy | Feb 14-20 | 34% |
| Middle East Unrest | Feb 28-March 6 | 32% |
| Economy | Aug 8-14 | 32% |
| Potential Government Shutdown | April 4-10 | 29% |
| 2012 Campaign | Oct 31-Nov 6 | 29% |
| Economy | Sept 5-11 | 28% |