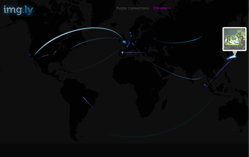 The description from the author of this visualization reads
Live activity visualization of photo sharing app img.ly. We're connecting the location of a visitor and the location of the photo he's looking at.
As I watch this Information Aesthetics shared data visualization, I can't help be be reminded of the time when I was in school, and the limits of what we could look at.  We had magazines, books and newspapers, and even television, connecting us to Charlotte and Asheville — less than two and a half hours drive from each other.  The video news we watched piped in from New York, based on their programming.
What we see in this visualization is revolutionary on so many different levels.  What you see here is what made the Arab Spring possible and so many other revolutions possible.
What else might it make possible in the future we are preparing our children for.
Blog Post: http://goo.gl/YXJJh
Visualization: http://goo.gl/WrRnV (click "Launch Experiment)
(Sent from Flipboard)