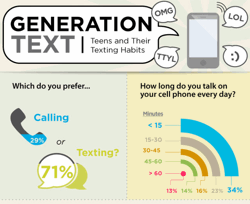 Teens text a lot. Boing! This is one of many infographics to illustrate the prevalence of texting among teen agers. It was created by Lab42, who also collected the data via their social networking. Researching the graphic a bit, I found that Mashable's Charlie White commented.
After a close encounter with a texting teen at a busy intersection recently, we wondered: Has texting taken over as the primary form of communication for today's teens?

The headline stat: 71% of the respondents preferred texting to phone calling. But we have our doubts about that self-reported 2% who admit texting while driving, a suspiciously low number.

An additional statistic not included here: An infographic we created last year showed that adults 18 and older text an average of 10 texts per day, and guys 14 to 17 text 30 times per day — but girls 14 to 17 are the biggest texters of all, sending an average of 100 per day.
This interests me because I question, "Why?" Why do they prefer texting over talking via their phones? Is it trend? ..or is it something more practical? It also interests me that text is about writing. It's writing, reading, thinking, and writing. It's not skilled writing, critical reading, or deep thinking. But it is a leverage point that we, as educators might use.
Blog Post: http://goo.gl/W2dN7
Graphic: http://goo.gl/vd7ZS