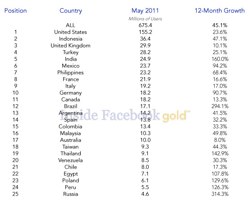 Facebook continues to grow, though not so much in the U.S. From a May 6 Inside Facebook blog post..
Having reached around half the total populations in Europe and North America, Facebook had slower growth in these regions. The US only grew by a couple hundred thousand users, many fewer than the millions Facebook had been adding every month for most of the past year. It lost users in Canada in the United Kingdom, although we've fluctuating gains and losses recently, and it's not clear what the trend is.
Countries on the rise are India, Philippines, Brazil and Egypt, each growing by at least 7% during the month of April. Data on the blog post lists the ten fastest growing countries. You can also see a simliar data set here that shows the 25 fastest growing countries over the past 12 months.
Data set 1: http://goo.gl/DlwiH
Data set 2: http://goo.gl/lTIud